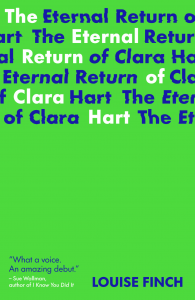 The Eternal Return of Clara Hart 
Spence and Anthony have been friends for years, but it's only when he witnesses a classmate die in what looks like a tragic accident at a house party that a flicker in the fabric of time helps Spence 'see' Anthony for the first time.
When Spence wakes up to the same day again and sees Clara, the girl who died, alive and well, it's clear he's been granted a second chance. And a third. And a fourth…
Caught in a loop, condemned to experience the same 24 hours over and over, Spence tries to prevent the terrible events of the party.
To break the spell he has to re-evaluate everything he previously took for granted and find the courage to call out his own and others complicity in events that marked the life and death of Clara Hart.
The Eternal Return of Clara Hart was published on 4 August 2022 by Little Island.
Praise for The Eternal Return of Clara Hart:
"Exceptional … a careful, thoughtful, compulsively readable examination of toxic masculinity and normalised sexual abuse." – The Guardian
"This novel is a reminder of how fiction can be an ideal space for exploring philosophical questions … I am glad this superb book exists." – Claire Hennessy, The Irish Times
"Bold and honest … More than a fast-paced novel with visible, realistic and necessary character growth that helps the reader move closer to understanding, The Eternal Return Of Clara Hart is a reflection on real life." – The National
"This book is a riveting read that you will find hard to put down." – The Scotsman